By Ezriah Zippernowsky
Last updated: May 20, 2020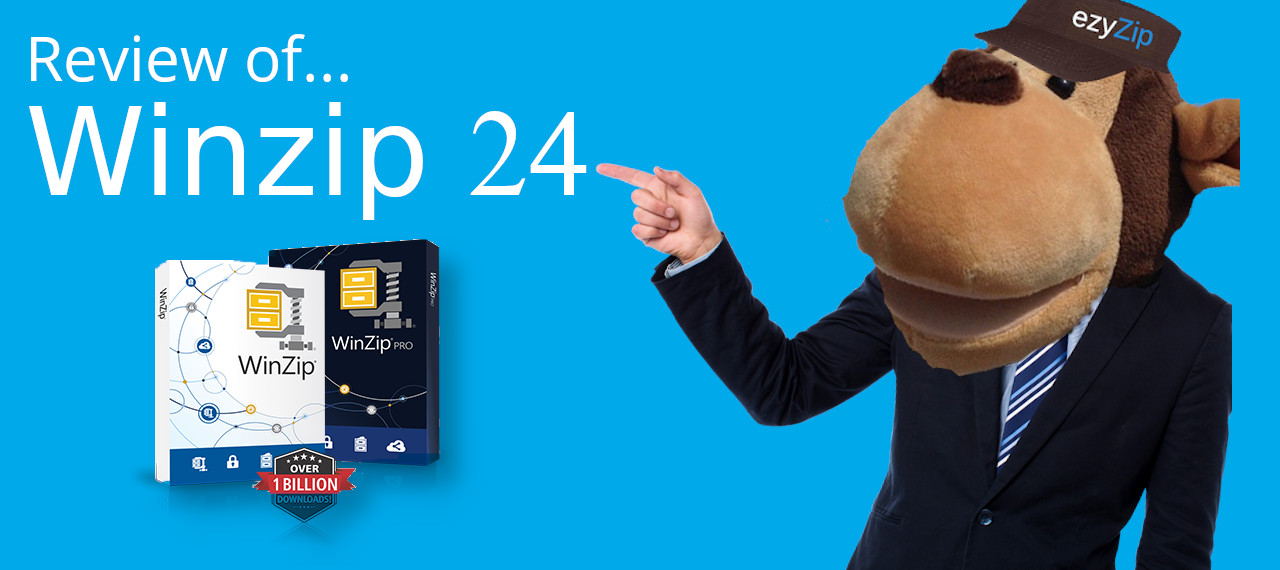 Whilst ezyZip is great for simple archiving functionality, sometimes you'll need a more robust native solution. The grand daddy of all native apps is WinZip!

WinZip is the only tool you will need for zipping, protecting, managing, and sharing files without any hassles. It provides you with easy file access and allows connections with DropBox, Google Drive, and various other cloud options.
WinZip ain't just for ZIP files
WinZip is a great zip tool that can protect your files, manage your archives, add watermarks, convert PDFs, and allows you to integrate with cloud services. Released in 1991, it's one of the oldest tools available but still one of the most reliable ways of using zipped files, being easy to use and having a number of handy features.

With over a billion downloads, WinZip might be old but it very definitely still has relevance; it has a modern user-friendly interface.

WinZip can do far more than simply unzipping and zipping files. It can even cope with a number of different file formats that often appear on the web, such as CAB, RAR, 7z, LZH and ARJ. This means that you can protect your documents, if you wish, using a level of encryption equal to that employed by national governments.
WinZip interface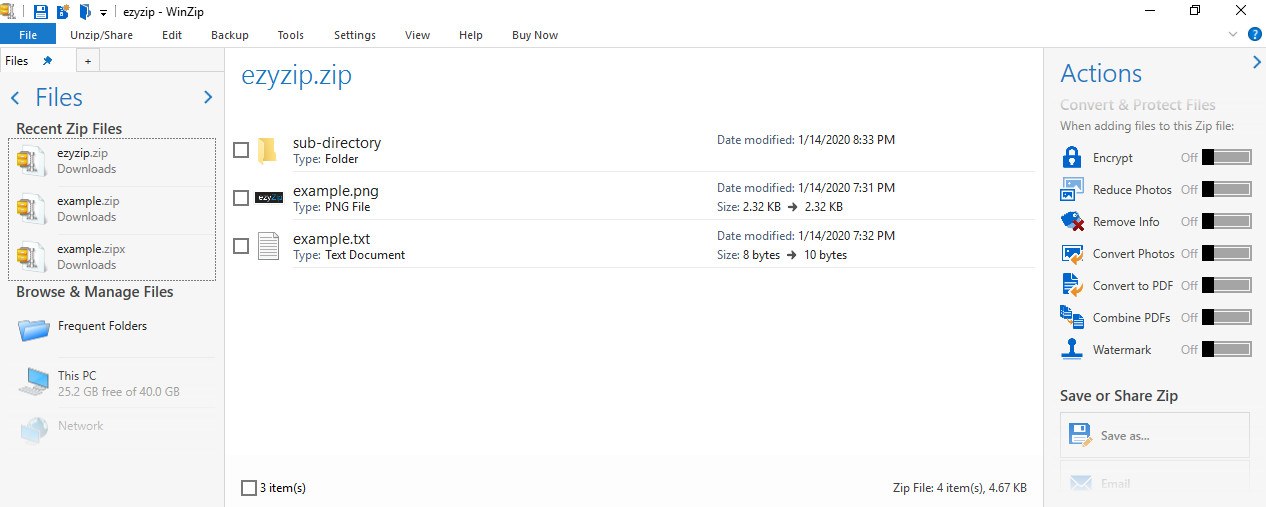 The primary interface of WinZip will be familiar to anyone who's used Microsoft Office. There is an easily navigated ribbon control bar, and the whole thing is slick and modern, although you can choose the original WinZip interface if you like that better. The interface can even be customized with themes.

The first option on the control bar is Create, which allows for encryption of documents, resizing photos, addition of watermarks, and PDF conversions. Another button offers cloud options allowing for the creation of zips straight from the online storage services of Google Drive, DropBox, and Microsoft OneDrive.

Right at the top of the window, you'll find a number of one-click buttons with which you can open existing zip files, create new ones, or send them to online source services. Files can be saved in an archive or they can be zipped and emailed. You can fully configure all context menus, so if you want you can only see the WinZip commands.
WinZip cloud integration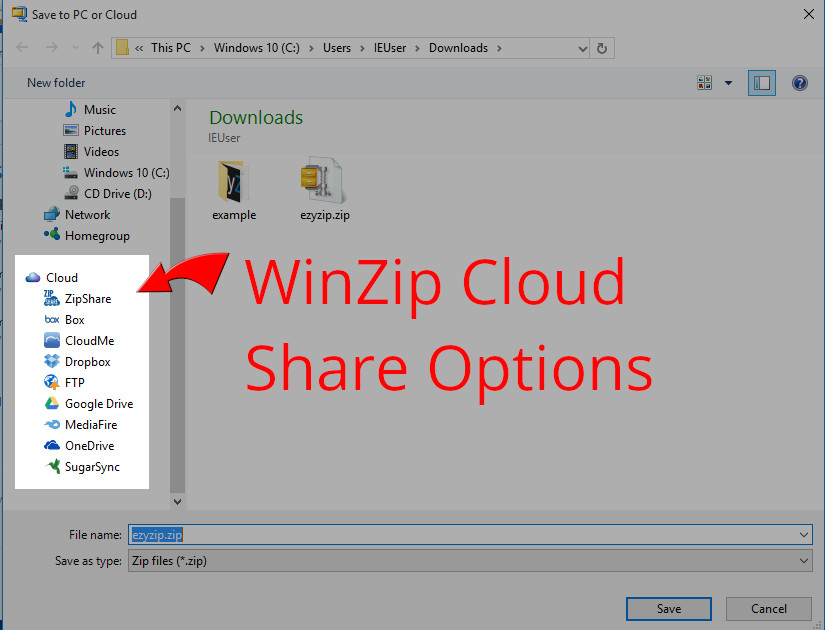 Once you're logged in, you can easily create zip files in your cloud account. Currently supports ZipShare, Box, CloudMe, Dropbox, FTP, Google Drive, MediaFire, OneDrive and SugarSync.

WinZip downloads files and does everything you need to create a ZIP file itself. When it's done, you'll see a message box showing the amount of space you saved by compressing the files.

It's just as simple to upload ZIP files to cloud accounts and social media. They can be uploaded to Facebook or Twitter, or both at the same time. Your files will be uploaded to WinZip's proprietary account storage and you will be sent a share link. Place this on your social media pages and any followers who click it will be sent to an easy-to-use download page @zipshare.com.

Files can also be sent via ZipSend; you do have to open an online account for this, but it's free and allows you to send files of up to 50 MB. If you choose the paid option of ZipSend Pro you can send files of up to 2 GB.
WinZip tools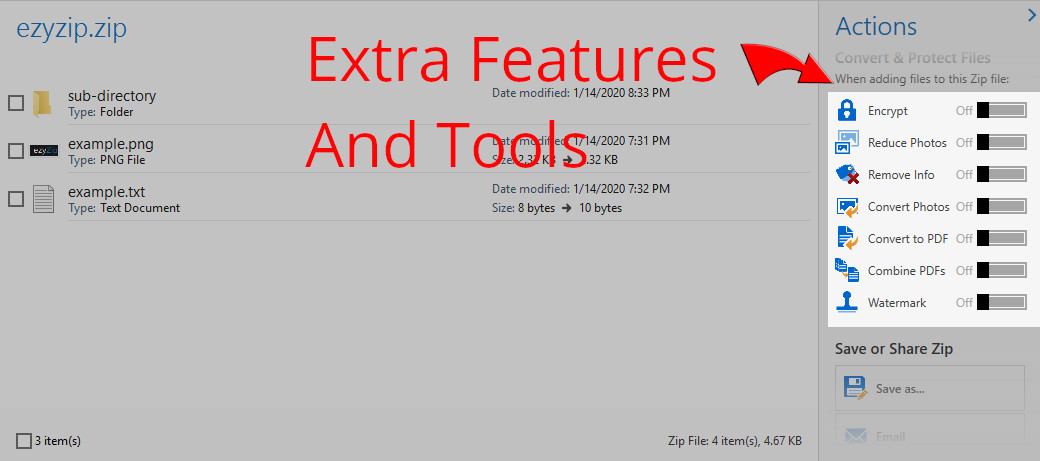 You'll find a number of useful features in the "Tools" menu. These allow you to encrypt passwords, create multi-part zip files, self-extracting files, Reduce size of photos, remove any personal data from files, convert photos and documents to other format and add your own watermark to images.
WinZip encryption
With WinZip, you can encrypt compressed archives/files using up to 256-bit AES, identical to the security standards employed by the US government to protect extremely confidential data.
WinZip photo features
The photo features are particularly useful for people who need to deal with image files on a regular basis. Now days with giant megapixels being standard, batch image manipulation is particularly useful. Any images inside your files can be resized and watermarks can be added for the protection of your digital property.
WinZip document conversion
If you primarily deal with office documents, then theres some nifty features just for you. You can easily undertake the conversion of Office files into PDFs so documents are read-only. These documents can be combined into a single PDF.
Remove any personal data
Privacy is a concern with many people and images and documents inadvertently contain a lot of personal data you probably do not wish to be shared around! One of WinZip's features will remove any such meta data from files, ensuring you are not accidentally sharing personal information about yourself or others.
WinZip issues
Certain users have reported that error messages appear during testing. This frequently happens if you drag-and-drop a large number of files simultaneously. Error messages may occur if you try to send MyZip emails. Fortunately, the program has a comprehensive and updated help service in its Knowledge Base.
WinZip alternatives
For simple operations, you can use your's truly, ezyZip! Just use the navigation up top to select filetype and functionality.

For native programs, there are competitors such as WinRAR, 7-Zip, and BandiZip. Having said that, the newest iteration of WinZip has the greatest number of features and is the most user-friendly available. It works faster, offers more, and provides the best security options.

Most contemporary operating systems have integral tools available for the extraction of ZIP files. However, WinZip outstrips them all in speed terms, particularly those ones that might come with your PC. Its encryption and cloud integration are second to none; basically, you won't find a more user-friendly or productivity-increasing offering available.
The fastest zipper in the west!
Should you want to zip large media files, this is the quickest way of achieving it. It just takes around a minute to zip a 1GB project with a 97% compression rate. The same task using Windows' integral zipper function would take around 30 minutes.
Old dog, new tricks!
Although WinZip has been around so long it's hard to remember when it didn't exist, that by no means makes it outdated. It works seamlessly and quickly. You can save storage space by quickly and safely zipping and unzipping files, you can archive and share them, and you can encrypt them. The newest iteration offers cutting-edge conversion capabilities and a new easy-to-use tool for compressing photographs. If you download WinZip, you will be joining more than a billion satisfied users. Although competitors have come and gone, WinZip is still the most comprehensive way to compress and archive your files. If you're still not convinced, try out the 45-day trial option and see for yourself just how much safer and faster your workflow becomes.